May 2021
Crates Local Shop Opening
We are taking orders for food deliveries. Email info@crateslocal.co.uk 
The coffee shop continues to be open for takeaway only for hot and cold food and drink.  We are looking forward to 17th May to open the coffee shop to seat everyone inside. We have lots of exciting additional menu items and ideas to share with you all. 
Crates remains open following the latest lockdown.  We want to remind customers of our ordering and home delivery service.  Delivery is free to RH12 and close areas and there may be a small charge for delivery to further afield.   Delivery is available Monday to Saturday and the same day where products are available. All meat orders will be required by midday on Wednesday for delivery Thursday to Saturday. Any specific bread orders need to be made by 1pm on the day for next morning delivery.  If you require any further information, a full list of products or if you would like to place an order please call 01403 256435 or email info@crateslocal.co.uk
ONLINE – We have Fruit&Veg Boxes & Grocery Bags available to buy online – please go to our shop here. Collect 'contactlessly' or FREE delivery for orders within RH12 and close surrounding areas. For delivery in other areas, please enquire. We will be able to arrange delivery for a small charge.
If you require any other goods, please call or email your order to info@crateslocal.co.uk and we can arrange.  We are currently updating our online ordering facility so this should be available soon.
CRATES SHOP – The shop will remain open to provide essential goods for customers with appropriate social distancing and measures in place to keep everyone safe.  We ask that everyone wears a mask and uses the hand sanitiser before they enter and avoid touching goods as much as possible.  We thank people for their patience if they need to wait outside to enter the shop area.
OPEN: Monday to Friday 10am to 4pm, Saturday 9am to 4pm
CRATES COFFEE SHOP – The COFFEE SHOP  will move to takeaway only during the lock down period from the 26th December 2020.  However, we will continue to serve hot and cold drinks, sandwiches, toasties, pastries, homemade sausage rolls, jacket potatoes, homemade soup, pizzas and daily specials.
OPEN: Monday to Friday 8am to 3pm, Saturday 9am to 3pm
Please Stay Safe – shop SAFELY ! x
Crates Local is situated in a prime location in Horsham Town Centre. It is a natural addition to the growing list of great independent food outlets and amazing wealth of fabulous restaurants including Michelin star Tristan's. Our customers demand quality, local and fresh produce on a weekly basis.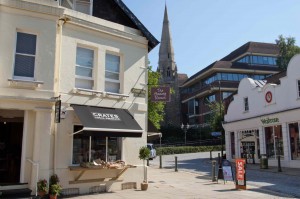 A natural addition to Crates is our Coffee Shop, serving amazing coffee from Horsham Coffee Roaster and speciality teas from Bird&Blend. All of our pastries, sandwiches and soft drinks are of course made up from the local produce we already have in the Crates Local shop. In the summer we create tasty salads featuring the famous Nutbourne tomatoes and during winter we switch to nourishing daily soups.
The choice of produce available from the shop is extensive from fruit and vegetables, artisan bread, dairy, cheese, eggs, cakes, soft drinks, jams, chutneys and even handmade chocolate. The shop also boasts a fine range of local wines from Bolney Wine Estate, Beacon Down Vineyard, Chapel Down, beers from local breweries such as Loud Shirt and Firebird, ciders from Wobblegate, Garden Cider and Trenchmore Farm's Silly Moo.
Gin has become one of our most popular draws and we proudly serve some of the best gins (and vodkas) in the South with tasting always available upon request. Our main stays on our crates include Brighton Gin, Horsham's very own Cabin Pressure . Other wonderful creations include four from The Gin Kitchen; Gutsy Monkey, Blushing Monkey, Ginger Cat & Dancing Dragontail together with Pure Sussex and Sussex Blue from Harley House, a trio from Sherlock & Sons, the Greensand Ridge collection,  Generation 11, Hidden Curiosities, Madame Jennifer's trio. There is also an ever changing selection of guest gins from all four corners of the UK. Crates now also boasts it's very own gin Horsham Serpent Gin, made for us by Horsham distiller, Cabin Pressure Spirits although you may well also find it served in Horsham's finest establishments.