The Knowles family in Cowfold are certainly taking their rearing and growing very seriously. The focus of Trenchmore Farm is, without doubt, the striking herd of Sussex, Wagyu and Angus cattle. The resulting beef from the crosses is gaining a reputation for being amongst the best in the South, certainly our top local chefs must think so as their demand increases.
Of course, when you also have an orchard hosting hundreds of apple trees, your cattle rather enjoy any time they spend eating the windfalls which gave rise to the farm's aptly named Silly Moo cider. As Silly Moo demand began to outstrip supply of the cider apples on the farm, the family started a scheme for people to bring in their unwanted apples in return for bottles of the giggly apple juice!
The latest venture from this very special Sussex farm is one that the area has been crying out for – heritage wheat. The crop this year has been stoneground to create a quality strong flour and is also available as wheat berries which, we are told, prove very versatile and a great alternative to rice.
Come & meet some of the family at Crates in the Carfax this Saturday from 2pm. You will be able to sample their (not so) Silly Moo cider and talk all things farm!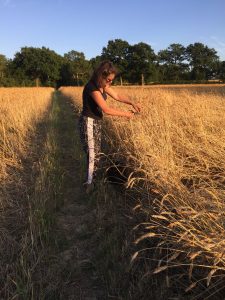 daughter, Rachel Knowles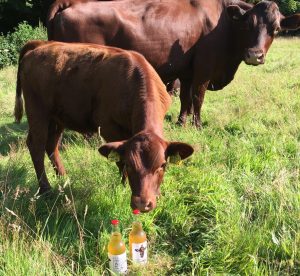 The beautiful beasts
For anyone of a cheesy disposition and a long stay Horshamite, you will remember Lesley running her fabulous, renowned cheese shop in the town. Starting off in a multi-occupied site in East Street, she soon clinched her own shop in the middle of the Carfax (now Shakeaway) and then rolled just across the flagstones to the North side next to Frank Wilkinson's Candy Box.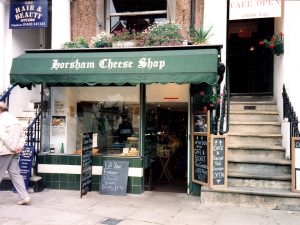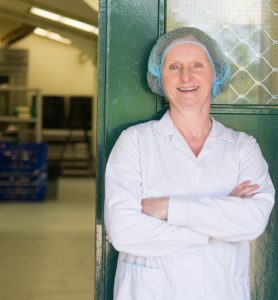 Lesley moved on from Horsham Cheese Shop many years later but remained working with her passion – food, helping others achieve her own high standards as a fine food consultant. More recently, she has turned her attention to reviving the town's appetite for gingerbread and, indeed, Sussex heritage for all manner of long lost food delicacies.
Today's Horsham Gingerbread is born from a collaboration between Lesley, the Friends of Horsham Museum and curator Jeremy Knight discovering a Regency recipe.  Lesley has brought it up to date and taken it in to full production.
You can read the full story here and learn about Lesley's other offerings such as Sussex Alberts and Lemon Puddle Thins based on Sussex Pond Pudding.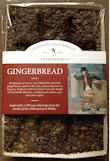 You will find Horsham Gingerbread all over the county including Horsham Museum and , of course, the full range at Crates Local in the Carfax just a few doors up from where Horsham Cheese Shop used to be.
For the duration of Horsham District Food & Drink Festival, we will focus on many of our local producers. A few are already featured for real in our windows on the Carfax, others will feature virtually!
The September Food Festival kicks off this weekend with the fabulous Big Nibble event in Horsham itself. Featuring local food and drink producers, street food, a live cookery kitchen morphing in to a gin veranda.
Here at Crates we will , as ever, champion our amazing local producers and will also be featuring local gins at our very own GIN CORNER. On Saturday, it's all about Brighton Gin and on Sunday we will celebrate all our favourite local gins with tasters available from Midday and G&T's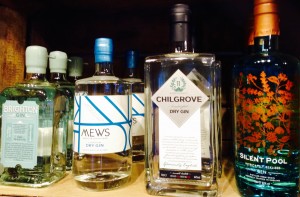 Crates Local has reached the finals of the 2018 Sussex Food & Drink Awards.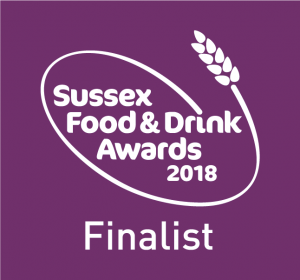 Vote here until 19th September and Crates would love to see it's fabulous producers such as Brighton Gin, Chilgrove Gin, Wobblegate, Just Brownies, Bookham Harrison, Gran Stead's, Nutbourne Tomatoes and Hepworth Beer pick up plenty of votes too!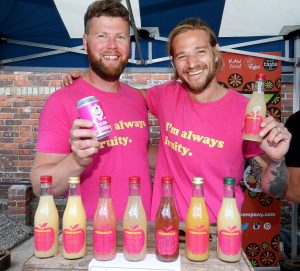 As Juniper June draws to a close, we have a fabulous tasting event planned for Saturday 24th June with David Howard, creator of Horsham's very own 'shed' gin, Cabin Pressure at Midday. Following on during the same afternoon will be the delectable Kathy Caton from the award-winning Brighton Gin stable (and strong?!).
Come along, meet the gin makers and try their wonderful creations.
We may be in pumpkin season (full swing here at Crates with all manner of great squashes) but our HAMPER STATION is already coming on a treat and it's not tricky at all !
Just pick a hamper, gift box or bag, select what fabulous Sussex food and drink goodies you want in it and we will do the rest (there's some lovely Surrey food & drink too!).
If you're pushed for time, you could always just PICK & GO as we have some brilliant options all packaged and ready to buy.
Themed hampers are always good fun from English Wine Hampers, Ginger Lovers Boxes through to Chilli Bags or how about a G&T Gift Box?
Call in any day from Monday to Saturday and have yourself a grand time at the Hamper Station – makes present-buying far more enjoyable and give something that anyone will want to devour!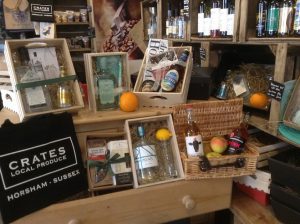 Take off the pressure at this time of year with some amazing foodie gifts, boxes, bags or hampers! After all, who doesn't appreciate good food and drink. With an amazing choice of fine local produce, come in and put together those ultimate gifts making it personal and delicious.
Ginger Fiend, Gin's the word, Cheesemaker, Crazy Chilli Club and plenty more…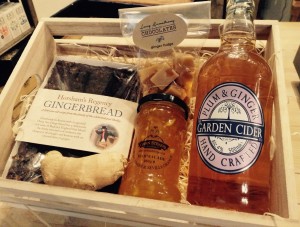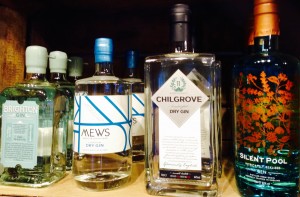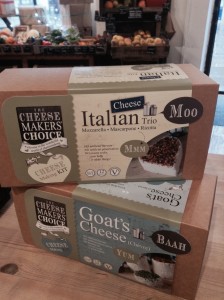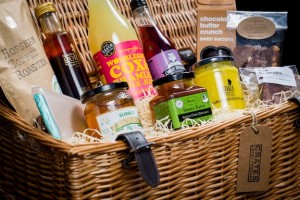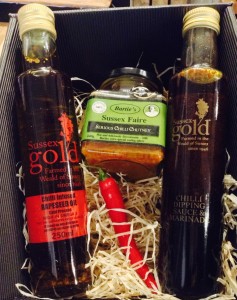 We love our customers asking about our produce so we thought we would share with you some frequent Q&A's;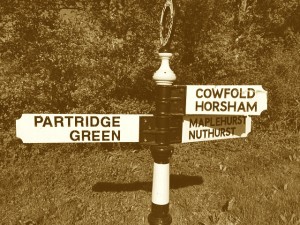 WHY LOCAL? It's fresh, tasty, has provenance and makes total sense with so many amazing producers all around us. There is the added bonus of keeping money in the local community.
IS IT VALUE FOR MONEY? Much of our produce costs the same as most supermarkets, sometimes a bit more, sometimes a bit less.
CAN I DO A W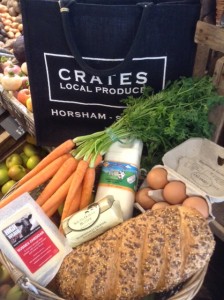 EEKLY SHOP AT CRATES? We have all your everyday needs – bakery, dairy, fruit & veg, store cupboard goods, wine, beer and even spirits. You would probably need to use supermarkets on occasions or, better still, the markets and other small shops in town – deli's, fishmonger & butcher (New Street).
IS IT ORGANIC? Some produce is, some is grown or made organically but not certified (as many small producers find it too costly) and other produce is not. Our focus is LOCAL, knowing the producers and what they do.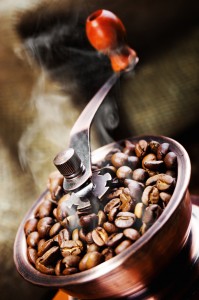 DO YOU SELL BANANAS? Yes we do in our 'guest' section. We have mostly local and seasonal fruit & veg but do offer some other staples. Our cafe also offers local with even the coffee being locally roasted!
Mushrooms
Whether cultivated or harvested from the wild, mushrooms are far from being a vegetable but are the edible fruit bodies of fungi that grow from either above or below the soil. There are many thousands of species with many more believed still to be discovered but only a small fraction are actually cultivated for our enjoyment. Such cultivation, however, has a long history going back thousands of years in all corners of the world from China, the Romans, Greeks and even ancient Chile.
Mushrooms are available throughout the year but wild mushrooms do have their season with morels being at their best in the Spring. Due to the many varieties of poisonous mushrooms, it really is best to buy all your mushrooms from a reputable source unless you really know what you're doing as they really can kill. As well as providing a fabulous earthy flavour to any dish, the mushroom is a great source of important minerals and B vitamins. 
Celeriac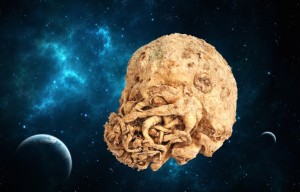 Possibly one of the ugliest vegetable on the shelf but this alien looking root should not be passed by. With a wonderful celery-like flavour with nutty tones, it is incredibly versatile and can be eaten raw in salads or roasted, steamed, boiled, mashed and makes for a rich and nutritious soup. It also has an amazing long storage span and, if kept cool, will keep for many weeks if not months.
Known throughout the world and also referred to as turnip-rooted celery or knob celery, it originates from the Mediterranean Basin and can still be found growing wild in these regions. As a great nutritional all rounder, it is packed with essential vitamins and minerals and yet very low in calories with very little starch content unlike potatoes.
Spring Greens
There is much to be said for naming a vegetable in the most descriptive way possible and these really are as so called. They are the first cabbages of spring and most definitely green, packed with taste and goodness. They are a welcome offering following on from winter with a softer texture than cabbages, a sweeter flavour and really fresh. They are best bought whole and resemble a head of cos lettuce with a darker hue.
These are probably the closest you will get to wild cabbage and truly lend themselves to being cooked rapidly, either steaming or add into dishes, soups and stews at the final stages. One transformation of spring greens is served from nearly every chinese restaurant in the land and goes by a more deceiving label of crispy seaweed.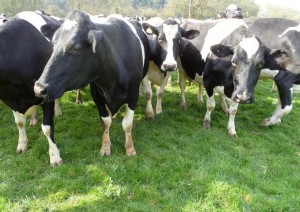 Milk is certainly hitting the headlines currently with many dairy farmers being squeezed to the edge. What appears to have been lost in the arguments of the price of milk, however, is the differences in quality and types. Most supermarket milk is all homogenised and, of course, pasteurised. Long gone is the delicious milk we all remember on our doorstep with the creamy top. Whilst that milk was pasteurised to eradicate nasty bugs, it was rarely homogenised. This additional process was developed with the introduction of semi-skimmed and skimmed milk to eradicate any cream layer by simply blasting the remaining fat molecules into a smaller size to be distributed throughout the milk.
Some studies suggest homogenisation has led to an increase in heart disease as the fat globules are too small to be digested but, instead, they clog up arteries. Others believe homogenisation has led to increased milk intolerances and even eczema in children. Counter studies do not always support these effects but whatever may be true, it is undeniable that the taste of milk has changed through the homogenisation process. Non-homogenised and single farm milk is still available from specialists food shops and just one of the supermarkets. It is well worth rediscovering – on it's own, in tea and especially in coffee and worth every penny more than the mass produced multi-farm milk so abundant on the shelves. There is even a comeback in raw, unpasteurised, milk but this remains illegal to sell other than directly by the farmer.
Come and try our non-homogenised, LOCAL milk – it's direct from Downsview Dairy and at a fair price to the farm yet still great value.